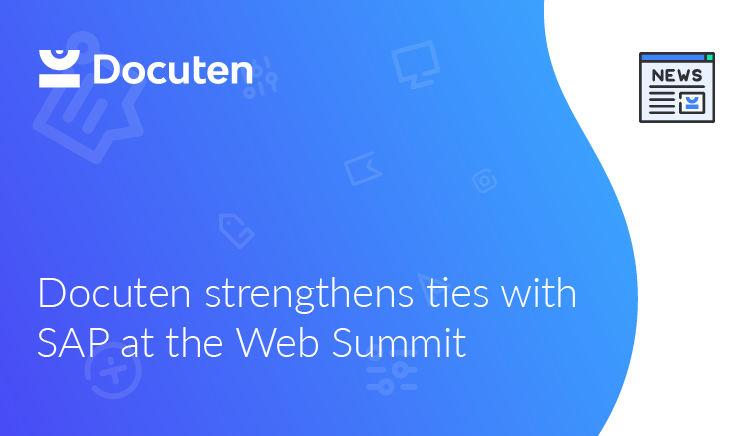 Web Summit is the technological summum, an event that "brings together people and companies that redefine the global technology industry", as they claim on their website, which took place in Lisbon.
There are many extraordinary valuations that this technological congress receives. According to Forbes, the Web Summit is "the best technology conference on the planet". The New York Times says that this event brings together "a great conclave of the high priests of the tech industry." "Where the future is going to be born," adds El Atlantic. And a long etcetera of feedbacks received.
With more than 70,000 attendees, CEO and 11,000 journalists from over 160 countries around the world, Brais Mendez, CEO of Docuten, was responsible for representing us at this event.
Docuten and SAP forge a new professional relationship
One of the reasons for our participation in this event is the invitation from SAP, world leader in ERPs. The intention of the two companies is to strengthen their relationship, connecting their solutions in order to better serve those SAP clients who want to use Docuten solutions. 
GAM as an example of an innovative company that leverages this synergy
So far, Docuten and SAP have already worked on joint projects. An example is the case of GAM, a multinational specialized in machinery solutions and services for industry.
Installing Docuten in SAP enables this company the digital signing of documents related to the commercial sector and HR, both under integration with SAP ERP intelligent solution through API, such as using the web platform Docuten with a customized ad hoc.
GAM for this integration is a further step in its digital transformation process to increase the effectiveness of their internal processes and business, always with the focus on improving the service for their customers.
Increasing the value we can give to SAP client companies is one of our strategic objectives and we are delighted to have found such a collaborative attitude in this multinational. As Ramón Abruña, Head of Innovation of SAP Spain comments "At SAP Innovation we are delighted to collaborate with startups like Docuten (…) GAM is a great example of the power of digital transformation in backoffice processes, intelligently combining a market leader like SAP with a growing startup like Docuten."