On July 1, 2018, the new version of the SII, 1.1., came into force, reflecting some changes with respect to the previous version.
Currently, both versions, 1.1 and 1.0, coexist on the AEAT production environment. Only the most recent version will be operational on the 21st of July. Until this date, Docuten allows the submission of both CSV formats. Subsequently, invoices sent to Docuten in the format 1.0 will be converted to the new format.
In the following info-graphics we will show you the highlights of this new version 1.1 of the SII: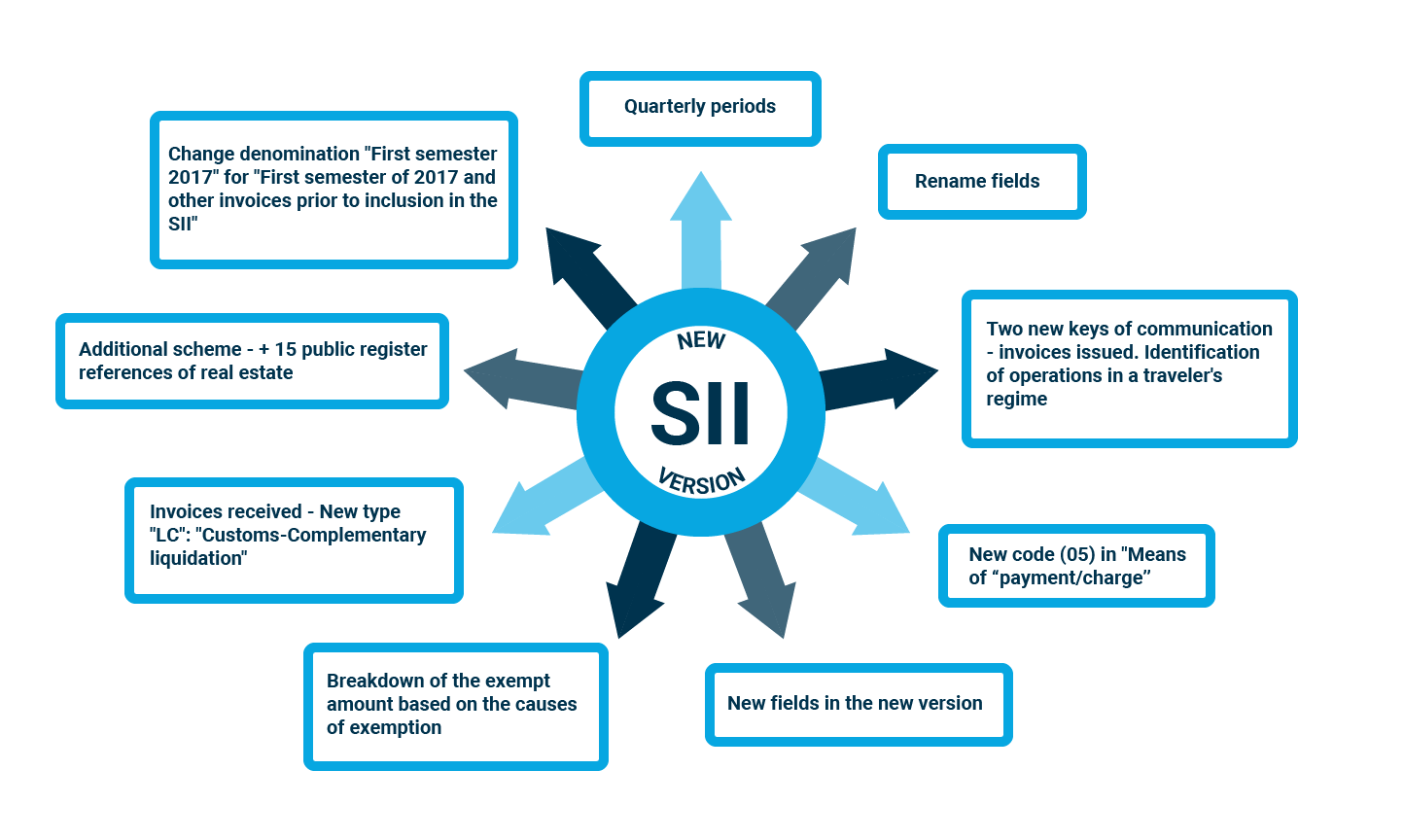 In addition to these changes, new fields are created including:
Invoices without identification of the recipient article 6.1.d) RD 1619/2012: to identify complete invoices in which it is not mandatory to identify the recipient.
Simplified Invoice Article 7.2 and 7.3 RD 1619/2012: to identify simplified invoices that identify the recipient in accordance with paragraphs 2 and 3 of Article 7 of RD 1619/2012.
Invoicing Third and sixth Additional Provision of the Organised Gas Market: to identify whether the invoice has been issued by a third party in accordance with a regulatory requirement (third and sixth additional provision of the Regulation governing invoicing obligations or regulation of the organised gas market).
External reference: free content field in which you can add internal company information associated with the invoice record.
Subsequent entity (Company Name and NIF): to identify the invoicing records made by an entity in its capacity as successor of another entity for corporate restructuring operations.
Late registrations: for those invoicing registrations with difficulties to be sent in time for not having proof of the change of condition to GGEE, and inclusion in REDEME or of a change in the inspecting competence.
Macro-data: identifier that specifies those invoices with an invoice amount greater than or equal to a threshold of 100,000,000 euros.
To know more about the changes in the new version of the SII, consult the regulation on this subject published in the BOE.

---
∴You may also be interested:
Enxendra sends the first million invoices to the Spanish Tax Agency on the situation of SII production
Enxendra certified as a corporate collaborator of the Tax Agency for the Immediate Supply of Information (SII)
---
If you have any doubts, please contact us. We'll be happy to help you!