Docuten is the first company that brings together digital signature and electronic invoicing software— services that until now had been offered separately. One platform to validate contracts, automate invoicing and comply with European regulations.
In addition to unifying these services, you can manage all your digital documents in the same place. Docuten not only handles electronic invoicing and digital signature, but acts as a  management tool for your company.
Our electronic invoicing software integrates with the "General Points of Entry" for the most prominent public administration offices in Spain, allowing you to send invoices in electronic format. You can also use Docuten to easily handle invoicing with private clients.
Additionally, our digital signature services enable you to sign contracts and other documents will full legal validity either online or through a mobile device.
Learn more about what sets us apart from other providers with this video.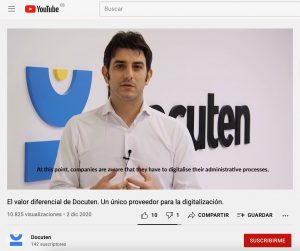 If you would like further information on Docuten's digital signature or electronic invoicing software, feel free to get in contact with us.